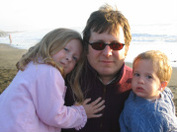 Barry Meskin was born in 1963, Johannesburg, South Africa. When he was 25 he emigrated to the United States, completing his medical and surgical training in San Francisco. Training was allopathic based, ultimately becoming a
Doctor of Podiatric Medicine
(D.P.M.) in San Francisco through 1992. His internship and residency training was at the tumultuous city and county Hospitals of San Francisco General and Oakland Highland. Aside from the inspiration from his father (Denis Meskin, M.D.) most of his hands on human experiences come from serving in the largest South African Military Hospital, as an Orthopedic Trauma Corpsman during the active
South African Border War
, commonly referred to as the Angolan Bush War.
He has a well-established reputation as an excellent and responsible clinician, with a very strong commitment to rendering care in a pragmatic, efficient and cost-effective manner. His 20 years of experience has earned him the respect of colleagues and patients limiting his practice to trauma, sports injuries, medicine and industrial work injuries (available at both
U.S.HealthWorks
and
Concentra
locations).
He is an active staff member at CPMC (California Pacific Medical Center) in San Francisco.
He is a credentialed provider in excellent standing with most Medical Provider Networks (MPN) in the Bay Area. In addition, he has been selected as a Preferred Panel Provider with many employer/carrier networks. His capacity and experience as a Qualified Medical Examiner (QME), enables him to evaluate disability and write medical-legal reports based on objective evidence and uses scientific methods relative to causation.
Hobbies include his 2 children, golden retriever, squash, hiking, running, rowing, reading, music and djembe drums.
---